The Future of European Aerospace: support European industry and jobs!
IndustriAll European Trade Union and ASD, the employers' representatives, call for urgent EU action to combat the challenges faced by the European aerospace sector in a fierce global market.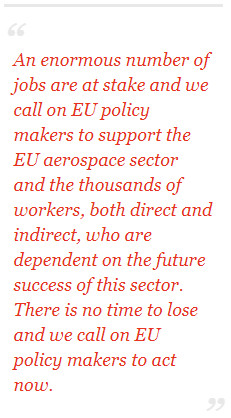 Today, industriAll Europe will call on the EU to step up its efforts to support the European aerospace industry, which faces fierce global competition. Addressing EU policy makers, employer representatives, civil society and trade unions at the European Economic and Social Committee today in Brussels, Luc Triangle, industriAll Europe General Secretary, will outline urgent demands from the trade unions to ensure that these high-tech industries and their high-quality jobs remain in Europe.
Luc Triangle said:
''The European aerospace sector provides over 500,000 direct jobs across Europe. These are high-skilled quality jobs which we want to protect, however, we can only do this with the support of EU policy makers. Europe is the world leader in innovative technology, but we face challenging times ahead and we need an ambitious European industrial policy for the aerospace sector to compete in today's global market.''
In today's mini-hearing of the Consultative Commission on Industrial Change (CCMI), employers, workers and civil society will come together to discuss an opinion on the challenges and industrial change in the EU aerospace sector. Speakers from Airbus, Rolls-Royce, Air France and Airlines for Europe will meet with industriAll Europe and their social partner ASD to highlight the future challenges for the sector and to list their needs to protect the industry and its workers.
IndustriAll Europe and ASD will also use this opportunity to release their joint statement on civil aeronautics research. The social partners for the European aeronautics sector call for EU research budgets for civil aeronautics to be protected and for a higher budget for aeronautics research in Framework Programme 9 (FP9).
Luc Triangle added:
''We should be proud of what the European aerospace sector has achieved so far, it truly is a real European success story. However, we cannot take its future for granted. A huge amount of work is needed to ensure that Europe continues to be the world leader in research and manufacturing and we must tackle future challenges such as reducing the carbon footprint of aviation, competing with new aggressive markets such as China and with countries who receive State Aid like the US. On top of this we must also face new technological challenges driven by digitalisation and electrification.
''An enormous number of jobs are at stake and we call on EU policy makers to support the EU aerospace sector and the thousands of workers, both direct and indirect, who are dependent on the future success of this sector. There is no time to lose and we call on EU policy makers to act now.''
Please find industriAll Europe and ASD's joint statement
HERE
.
See the CCMI Hearing Agenda
HERE
.