Making social rights work for children
On the occasion of the International day for the Eradication of Poverty (17 October), Eurochild urges EU leaders to prioritise efforts to tackle poverty in childhood. More than one in four children are at risk of poverty or social exclusion in the European Union.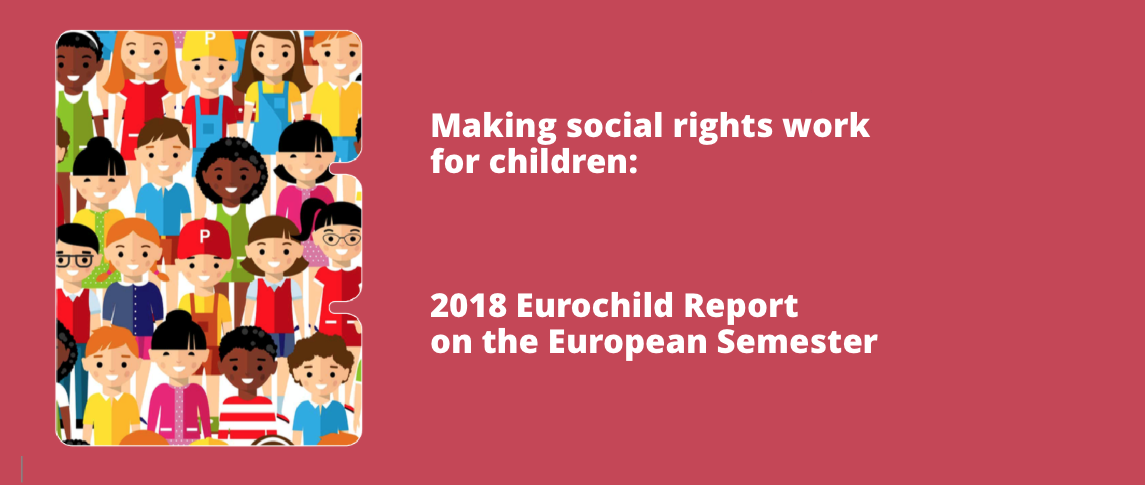 "Poverty in childhood creates a cycle of disadvantage that carries into future generations. No country, including the richest nations in the EU, can claim to be free from child poverty. The EU must use all its tools, be it the European Pillar of Social Rights, the European Semester or the Post 2020 EU budget to accelerate investment in children." – Jana Hainsworth, Secretary General, Eurochild.
Eurochild's latest report "Making social rights work for children" analyses the impact of the European Semester on children in 17 EU countries and offers three key recommendations:
1. Put social goals on a par with the economy and employment
The Social Scoreboard and common indicators measured by Eurostat monitor important social trends over time and between countries, for example child poverty, early school leaving, or childcare enrolment. These indicators should be given more weight when it comes to guiding Member States policies. Furthermore the EU can make better use of existing data by developing new indicators which give a more complete picture of children's situation.
2. Make children an explicit and priority focus of the Semester
Ireland, for instance, has been recommended by the European Commission to offer affordable and quality childcare. It is helpful recognition that children's learning and developmental needs are also dependent on adequate investment, good economic policy and budget planning.
3. Make the Semester process more transparent and inclusive
Eurochild's Dutch members are particularly encouraged by language in the European Pillar of Social Rights which requires Member States to have national strategies on child participation that can help bring children's voices into policymaking.
The report 'Making social rights work for children' also offers its own alternatives to the country specific recommendations in light of assessments by 22 Eurochild members.
Read the full report and discover our recommendations to tackle child poverty in your country here
For more information:
Prerna Humpal
Head of Communications, Eurochild
+32 (0) 2 211 0553
prerna.humpal@eurochild.org
About Eurochild
Eurochild advocates for children's rights and well-being to be at the heart of policymaking. We are a network of organisations working with and for children throughout Europe, striving for a society that respects the rights of children. We influence policies, build internal capacities, facilitate mutual learning and exchange practice and research. The United Nations Convention on the Rights of the Child is the foundation of all our work.
www.eurochild.org
Holidays
Due to the summer holidays, our staff will be limited between 1 and 15 August. Premium and Standard job ads will still be published, but their social media promotion will be postponed to 16 August, as well as the publication of all Basic job ads.