COP 21 deal: A historic moment for the climate
Sections
EU Priorities 2020
Sustainable Dev.
Climate & Environment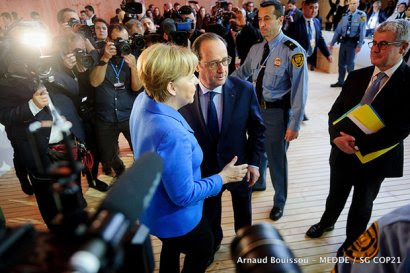 "The historic climate agreement in Paris is a very important milestone in alleviating the negative consequences of climate change. There has been a great mobilisation around the world for a common cause and finally we acted together," said Françoise Grossetête, MEP and Vice-Chairwoman of the EPP Group responsible for the Economy and Environment, as the United Nations Climate Change Conference (COP 21) concluded in Paris.
The 195 countries said yes to a legally binding agreement. The aim is to limit dangerous rises in the average global temperature to well below 2 degrees Celsius and to pursue efforts to limit it to 1.5 degrees Celsius.
As it is, the COP 21 resulted in a balanced and flexible agreement engaging all countries in the Word, MEP Karl-Heinz Florenz and head of the EPP Group delegation at COP 21, pointed out.
"For the first time in history we have an agreement on climate change where every country in the World stands up and promise to do an effort," said Karl-Heinz Florenz.
He adds that "There is now an obligation to review the emission reductions every five years. And, for the first time, these obligations have to be verified and made transparent. This is a substantial improvement over the current situation," Karl-Heinz Florenz said.
The EPP Group has called for an ambitious yet balanced global agreement like the one that is now agreed. At the same time, one of the EPP Group's main concerns is the so-called carbon leakage - a state where, as a result of stringent climate policies, businesses transfer production to other parts of the world with lesser constraints on greenhouse gas emissions.
"Work does not stop now. This agreement has to be followed by concrete measures and we have to see to that it will be applied. I remind that Europe already has high standards for its industry, so we have to be careful on question of carbon leakage and keep in mind that common standards have to be applied everywhere," Françoise Grossetête concluded.