Labour 4.0. – Strong Collective Bargaining to Shape Digitalisation
On 6 & 7 December, over 200 delegates attended the industriAll Europe Collective Bargaining Conference "Labour 4.0. – Strong Collective Bargaining to Shape Digitalisation" in Bratislava, Slovakia. They debated the role of collective agreements and workers' rights in light of digitalisation. Key conference topics included the developments in collective bargaining systems, the low-wage recovery, growing inequalities including the east-west pay gap as well as working time and the future of pension systems.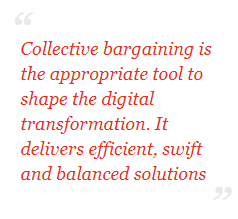 Speaking on digitalisation, Luc Triangle, General Secretary of industriAll Europe stressed that "it is important to recall that the consequences of digitalisation are still open and we are willing to contribute to shaping them in a just and fair way. There is no determinism regarding the social impact of digitalisation. We are not opposed to change and new technologies, but we want to make sure that they benefit workers as well. No one should lose out in the digital transition. In fact, collective bargaining is the appropriate tool to shape the digital transformation. It delivers efficient, swift and balanced solutions"
Commenting on the post-crisis situation, Manfred Anderle, Chair of industriAll Europe's Collective Bargaining and Social Policy Committee and Federal Secretary of PRO-GE (Austria), said "The effects of the long-awaited recovery are still not felt by workers in most European countries. Indeed, they continue to suffer from the consequences of deregulation policies which led to fragmentation of labour markets, pressure on wages and dismantling of collective bargaining. Our priority now is to rebuild collective bargaining structures as collective agreements are essential to bring back purchasing power and deliver good working conditions. We need to use all the possible channels to reach this objective, we need to strengthen trade union power as well as to get the national and European institutions to change their narrative on collective bargaining."
The Conference will endorse a number of key documents: A resolution calling for strong collective bargaining, support to sustainable growth and a fair, prosperous and inclusive world of work, a position paper on a wage policy in Europe together with an evaluation of the Wage Coordination Rule, a Charter on the Working Time and a position paper on the Requirements for a modern pension system. The final texts will be available on the industriAll Europe website shortly after the Conference.
The Conference is also the culmination of a two-year long project on Collective Bargaining financed by the EU.
Conference Media
All the photos from the Conference can be found here.
A video round-up of the Conference may be watched here.