New research reveals 55% of public worldwide believe auditors 'could prevent company failures'
55% of ACCA global research believe it is auditors who are responsible for avoiding company failures
34% expect auditors to always detect and report any fraud
70% believe audit should evolve to prevent company failures
A survey of 11,000 people in 11 countries around the world by ACCA (the Association of Chartered Certified Accountants) has revealed their expectation that auditors should evolve to prevent company failures.
More than half of those questioned also believe auditors are responsible for avoiding company failures.
When asked to define the role of an auditor, 48% of respondents from Greece were able to do so. This was closely followed by the Czech Republic with 47%. It showed that 25% of UK of respondents answered correctly.
The survey was conducted in association with Chartered Accountants Australia and New Zealand (CAANZ). It comes at a time where the UK audit sector is undergoing unprecedented reviews, including scrutiny of both the role and remit of its soon-to-be reformed regulator, The Financial Reporting Council (FRC).
The Business Energy and Industrial Skills select committee's report on the future of audit identifies the 'delivery gap' in audit.
ACCA believes that this is a legitimate concern, but pinpoints the expectation gap as the most pertinent issue facing the profession. The gap should be assessed in three components: the knowledge gap, the performance gap and the evolution gap. We then propose addressing each of these separately.
Maggie McGhee, executive director – governance at ACCA, said: "ACCA's survey highlights challenges for the accountancy profession, regulators and government in how to respond to public expectations of audit.
"The profession has long spoken about the expectation gap in audit, and our research highlights the failure of the gap to close. Globally, it is clear that further education on the auditor's role is required, backed by a proactive approach from the profession to address public concern."
Antonis Diolas, Audit and Business Law Manager, said: "There has been significant scrutiny in the UK around audit.
"Our research shows the urgent need for an open dialogue involving the profession, stakeholders and the public to understand what kind of audit future the public expects.
"Our data shows the high levels of misconception, and that the public are telling us they see audit is part of the solution, a robust audit sector exercising the appropriate levels of professional scepticism. We must work together to address their legitimate concerns about audit."
ACCA surveyed 11,000 people across 11 countries, weighted evenly by sample size, gender and spread across age, education level and household income. The findings are part of a global research initiative titled Closing the expectation gap in audit.
Countries included in the initiative are; Greece, Czech Republic, New Zealand, South Africa, Australia, Netherlands, Singapore, Canada, UAE, Malaysia, UK.
Key findings are listed below, and more data from the surveys including country specific statistics are available on request – please contact Maurice.Richmond@accaglobal.com.
Closing the expectation gap in audit: key findings
From a selection of multiple choice answers, 34% of respondents were able to accurately identify what an auditor does - gives an opinion whether the financial statements of a company give a true and fair view and do not include material mistakes due to fraud or error.
Findings from each country were as follows:
The general public have high expectations from auditors when it comes to detecting and reporting fraud; and a substantial number of respondents believe that the audit process can and should play an integral role in company safeguarding.
Globally, 55% of respondents believe auditors performing their jobs correctly will prevent company failure.
Findings from each country were as follows: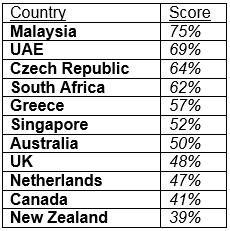 The next question aimed to find out if the general public would like to see audit evolve in a way that will prevent company failures. The results show that 70% of the respondents answered 'yes' in this question, indicating that in addition to those respondents who already believe audit prevents company failure, part of those who don't believe that, would like this to change and evolve in a way that would prevent company failure.
Global findings were as follows:
About ACCA
ACCA (the Association of Chartered Certified Accountants) is the global body for professional accountants, offering business-relevant, first-choice qualifications to people of application, ability and ambition around the world who seek a rewarding career in accountancy, finance and management.
ACCA supports its 208,000 members and 503,000 students in 179 countries, helping them to develop successful careers in accounting and business, with the skills required by employers. ACCA works through a network of 104 offices and centres and more than 7,300 Approved Employers worldwide, who provide high standards of employee learning and development. Through its public interest remit, ACCA promotes appropriate regulation of accounting and conducts relevant research to ensure accountancy continues to grow in reputation and influence.
ACCA has introduced major innovations to its flagship qualification to ensure its members and future members continue to be the most valued, up to date and sought-after accountancy professionals globally.