Global survey from ACCA highlights international trade concerns among SMEs worldwide, and how they can maximise growth prospects
Global survey of more than 1,200 small medium enterprises (SMEs) reveals only 16 percent of companies worldwide have accessed advice on international trade when looking to grow their businesses
Amid uncertainty over Brexit, only 11 percent of UK SMEs have sought external international trade advice. Vietnam, Hong Kong and Singapore almost twice as likely to have obtained such information
Study also shows 24 percent of SMEs intend to undertake international trade activities in the next three years when looking to grow their business
UK SMEs are up to nine times less likely to use alternative sources of funding, than Malaysia, Hong Kong, Vietnam, Singapore
A global survey of 1,240 private-sector businesses has revealed that only 16 percent of SMEs worldwide are accessing advice on international trade, despite 31 percent citing uncertain global trade as their biggest barrier to growth over the next three years.
ACCA (Association of Chartered Certified Accountants) has produced Scale-up success: What do SMEs need to supercharge their growth?, a study of companies with 250 employees or less on how their approach to management and governance can aid their future growth.
It revealed the power of external advice and notably external funding networks as important ways to deliver an organisation's long-term growth potential.
The survey highlighted the state of the domestic market and the uncertain global trade environment as the biggest barriers faced worldwide by SMEs.
A mere 16 percent of SME businesses questioned had sought international trade advice, despite fears over the uncertainty of Brexit only 11 percent of UK companies have done so. This compared with Vietnam (21 percent), Hong Kong (18 percent) and Singapore (17 percent).
Jamie Lyon, interim director of professional insights, believes firms intent on realising high growth ambitions need to think internationally and to prioritise seeking external advice.
He said: 'Growth can come at any stage of an SME's lifecycle. This requires business leaders to think strategically about the steps they can take to enable it. SMEs with high growth ambitions often tend to have an international outlook from the outset of their business journeys.
'Growth prospects can be supported if SMEs build a governance structure from the outset of their business journey. It is important to establish a management team that encompasses the broader skills and experience required to help expand the organisation.
'Use external advice to develop what you have –SMEs can help improve their resilience by developing relationships with relevant sources of external advice.'
External funding sources were also pinpointed as key factors for SMEs seeking to grow. Figures in the study highlighted the UK's approach being more tied to bank loans, funding from directors, family and friends and bank overdrafts.
Whereas figures showed ASEAN (Association of Southeast Asian Nations) countries sought to use more alternative finance sources.
Now thinking about raising finance, has your business accessed any of the following external sources of finance in the last three years?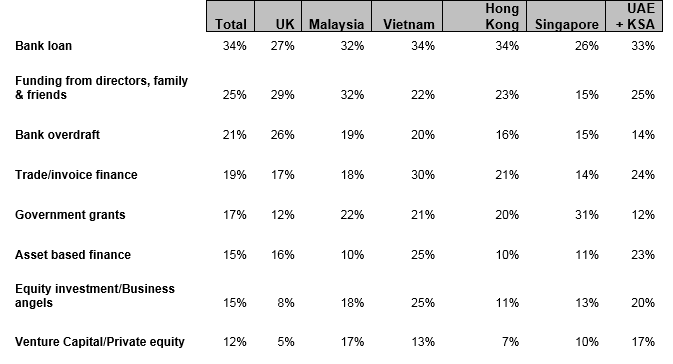 Mr Lyon believes the difference between ASEAN markets and the UK is highlighted by the former's internationalised focus and higher rates of technology adoption.
He said: 'ASEAN markets tend to be more internationalised, given places like Singapore are massive international trade hubs and also are situated in close proximity to China.
'The UK's SME funding markets are notoriously concentrated – about 80% of the UK SME lending is owned by the big four banks. Building an external funding network is crucial. Through building the right network, businesses looking to scale-up may find external funding more accessible.
- ends -
About ACCA
ACCA (the Association of Chartered Certified Accountants) is the global body for professional accountants, offering business-relevant, first-choice qualifications to people of application, ability and ambition around the world who seek a rewarding career in accountancy, finance and management.
ACCA supports its 208,000 members and 503,000 students in 179 countries, helping them to develop successful careers in accounting and business, with the skills required by employers. ACCA works through a network of 104 offices and centres and more than 7,300 Approved Employers worldwide, who provide high standards of employee learning and development. Through its public interest remit, ACCA promotes appropriate regulation of accounting and conducts relevant research to ensure accountancy continues to grow in reputation and influence.
ACCA has introduced major innovations to its flagship qualification to ensure its members and future members continue to be the most valued, up to date and sought-after accountancy professionals globally.
Founded in 1904, ACCA has consistently held unique core values: opportunity, diversity, innovation, integrity and accountability. More information is here: www.accaglobal.com