Huawei scoops Best Solution Vendor Award at MVNOs World Congress
Sections
InfoSociety
Innovation & Enterprise
Trade & Society
[Amsterdam, the Netherlands, 14 April 2016] Huawei has been given one of the

prestigious MVNO industry awards for the outstanding performance of the Huawei

BaaS solution. The company received the accolade yesterday, at the MVNOs World

Congress 2016 held in Amsterdam from 11 to 14 April 2016.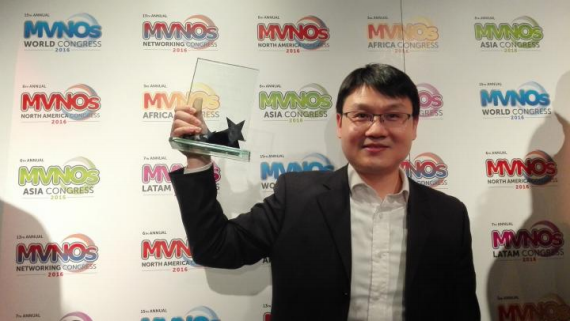 Jason Yi, Director of Huawei's Western European Hosting Centre, accepting Best Solution Vendor Award at
MVNOs World Congress on behalf of Huawei (13 April 2016).
Huawei's BSS-as-a-Service (BaaS) solution enables mobile virtual network operators (MVNOs) to
offer superior experiences by putting their customers in charge of their mobile subscriptions and
online services. The solution dramatically speeds up the system deployment, reduces the
complexity of the MVNOs service portfolio, and simplifies business processes as well as IT
systems and platforms.
"To stay competitive in the age of 'digital everything', MVNOs must become agile, digitally
transformed businesses. At Huawei, we work to put the right tools at MVNOs' disposal to get there,
delivering digital customer experiences fit for tomorrow's demand. Our BaaS solution epitomises
this approach," said Jason Yi, Director of Huawei's Western European Hosting Centre, accepting
the award on behalf of the company.
As Martin Kievit, Senior Business Consultant at Huawei, explained in his keynote speech at the
MVNOs World Congress on 14 April, Huawei has defined the digital customer experience as the
sum total of real-time, on-demand, all-online, DIY, and social actions and interactions – in short,
ROADS. The ROADS concept underlies the full range of Huawei product and solution
developments for the MVNO market. Mr Kievit stressed that Huawei's cloud-native software
portfolio, based on distributed architecture, was an essential tool for the MVNO market.
During the MVNOs World Congress 2016, the company shone a spotlight on its BaaS as well as
its Video-as-a-Service (VaaS) solutions, highlighting the next evolutionary steps for MVNOs. In the
field of BaaS, Huawei already has five years of service experience in Western Europe, supporting
a number of MVNOs. The first-ever demonstrated VaaS business, based on Huawei's Video
Hosting and Content Aggregation Platform, provides MVNOs with one-stop video business
support capabilities, thereby enabling a video business ecosystem.
Huawei's VaaS solution allows MNVOs to compete on an equal footing with traditional service
providers and significantly speeds up time-to-market. It enables them to offer video content to their
customers straight out of the box.
The World Congress is the most important annual event for MVNOs, bringing together decision
makers, buyers and sellers active in this market. Hot topics of this year's edition included new
types of MVNOs such as cloud, WiFi and data-only providers, the impact of new EU roaming and
network consolidation rules as well as global MVNO branding and strategy.
Huawei's contribution to the congress, and its achievements presented during the event, further
support its vision of building a better connected world. The award highlights that the company has
taken one step further towards making this vision a reality.
Huawei is a leading global information and communications technology (ICT) solutions provider. Our
aim is to build a better connected world, acting as a responsible corporate citizen, innovative enabler
for the information society, and collaborative contributor to the industry. Huawei's 176 000 employees
worldwide are committed to creating maximum value for telecom operators, enterprises and consumers.
Our innovative ICT solutions, products and services are used in more than 170 countries and regions,
serving over one-third of the world's population.
Huawei runs 18 R&D sites located in eight European countries (Belgium, Finland, France, Germany,
Ireland, Italy, Sweden and the UK) and operates numerous joint innovation centres in partnership with
telecom and ICT partners.